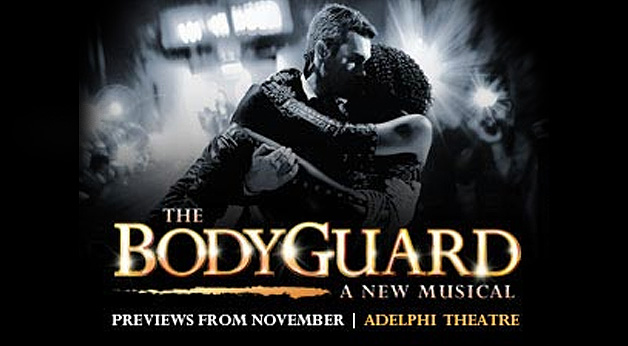 Last Thursday LAW Creative visited the Adelphi Theatre on The Strand to see the new musical 'The Bodyguard'.
Those of a certain age will remember the hit 90's film starring Whitney Houston and Kevin Costner, and this stage production is pretty faithful to the movie, although it's stacked with more songs from Houston's back catalogue.
Fortified by an excellent meal, a few glasses of Claret and an enormous bag of Lindor chocolates we took our seats and warmed up our voices to have a good sing song…
'The Bodyguard' stars Tony and Grammy Award-winner Heather Headley as Rachel Marron; Diva, and Lloyd Owen as Frank Farmer – the gruff and grizzled bodyguard hired to protect her from an unknown stalker.
Heather brings alive Whitney's songs beautifully and with great energy – actually the quality of the singing throughout was amazing from all the cast (take note X Factorers!) The Stage design is interesting too, although the action interspersed with projected video works in some places, others seem a little out of place (although I couldn't imagine how you stage a shootout/chase in a snowy forest without it).
As the curtain fell we tumbled out into the night. There had been tears, laughter and a few audible gasps – all from Claire one of our account handlers who fully embraced the evening and is now considering a new career treading the boards. She was last seen heading into the night singing "and iiiiiiiiiiiiiiiiiieeeeiiiiiii will always love yoooooou"
For a great night out I'd urge you to go, if only to appreciate how talented Whitney Houston was before the drugs, booze and Bobby Brown took their toll.
The Bodyguard is previewing until December 4th at The Adelphi Theatre on The Strand.