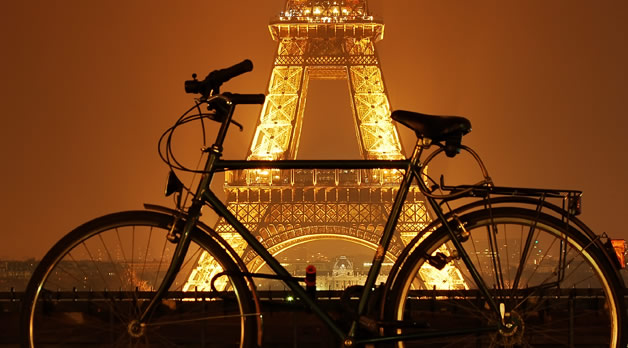 I had awoken with a feeling of slight dread one dark, January morning. Over the course of the day the sense of doom became worse and worse until I finally faced my demon: I had agreed to cycle to Paris.
This wouldn't be too bad if I lived in Poissy but we were starting from London; Blackfriars to the Eiffel Tower in 3 days.
Before I knew it, the ferry had been booked, the hotels sourced, the route sketched out. The only thing for me to do was to actually get there on my bike, and that meant a lot of training.
I scanned the internet for training schedules and made my first important decision; stop looking at training schedules. They were obviously made either by single, millionaire playboys with nothing else to do or madly fanatical fit people who would 'drop and give twenty' every time they sniffed a doughnut.
I entered the murky world of my garage and dusted down my bike. It was a sorry sight. But after a few dabs of oil and a pump up, I ventured out into the snow for my first training ride.
Over the next couple of months I learned to love my bike rides. There were a few set backs: I had caught a rotten cold and continued to ride through it turning a cold into a lung infection. The resulting cough caused me to crack a rib, which in turn made my lungs worse. I had a hacking cough and a streaming cold for 2 and a half months. My dad tried to talk me out of the ride and my wife rolled her eyes every time I donned my cycling clothes to go and train in the cold and wet.
Luckily by May, the sun came out. It had been one of the coldest and wettest winters England had ever seen, and with the sunshine my cold and chest cleared, my rib healed and I actually started to feel fit.
I decided to ride for a charity, and seeing as my daughters friend had been through a tough time I chose leukamia and lymphoma research and busily set about bothering my LAW Creative colleagues for donations. I was also chosen to appear in a charity film of which LAW were filming at the time for Lite@Nite Charity. They needed a middle aged, out of shape man to cycle around Hyde Park. Of course no-one sprang instantly to mind so I decided to perform myself which was great fun, especially cycling towards a floodlight covered in mosquitos a few dozen times. I'm sure Keith (who was directing) made sure I was getting nearer to plunging into the Serpentine with every lap.
I had 6 weeks left to train hard. With the longer evenings I was spending more time on the bike. My old faithful mountain machine had been replaced by a sleek, new younger model. I had started to wear branded lycra and above all, I was really enjoying myself. The hills, which a couple of months ago had seemed like mountains, were mere blips, the long straight roads were now personal time trials captured on my Strava iPhone app and minutely analysed for improvements in speed and heart rate.
By the time the day approached, my fellow riders (Andy, Jeff, Perry) and I were slightly nervous but excited as to what lay ahead. We had decided to follow Donald Hirsch's route joining the Avenue Verte at Dieppe and then use the minor D roads through the Normandy countryside and eventually leading to the forests of Versailles and the Bois de Boulogne, before popping out into Paris a mile or so from the Eiffel Tower.
I was in charge of the mapping and had carefully scrawled a red line across Google Map printouts and I handed them out equally, so we all took the responsibility of getting lost. Of course we straightaway forgot which order the maps went, but with a 'je ne sais quoi' Gallic shrug we agreed that it would work itself out, and if it didn't it was my fault.
Wednesday 1oth July
We left London on a gloriously hot day. I had been carb loading (technical term for stuffing my face) for 2 days and I felt a pre-lunch snooze coming on, but soon enough we arrived and set off to Newhaven for our first nights stop. On the ride through the Sussex countryside we swapped training notes. Jeff and his son Perry had been riding 3 times a week through the 'mountain ranges' of Herts and Beds. Both had bought new bikes from the 'Cycle King' in Luton. Both bikes weighed more than my car, but they did look good. Jeff's saddle was so spongey he could curl up and sleep on it, whereas Perry's was so sharp he could shave with it.
Andy had toyed with the idea of cutting out the fine wines, expense account lunches and cigars, but thought better of it and bought a super light-weight carbon fibre bike.
Our first day was stress free. A nice, hilly 60 mile ride to Newhaven. We followed the  B-road London to Brighton route for most of the way which we found very pleasant. The guest house in Newhaven had seen better days and served the weirdest breakfast I've eaten anywhere (and I'll eat anything) but nothing could dampen our enthusiasm as we caught the ferry over La Manche to Dieppe.
Thursday 11th July
The ferry reached Port at 4pm and we soon headed off to find the start the Avenue Verte. We passed through Dieppe, a very nice town, in the sunshine and were soon passing vans and support vehicles offloading bikes to fit looking lycra clad men.
I haven't mentioned that we were carrying all our spares, clothes and tools on our own bikes. This seemed like a good idea at the time (as no-one had volunteered to be a support rider) but as the days wore on our panniers became heavier and heavier, turning hills into mountains and made downhill stretches barely controllable.
The Avenue Verte stretch to Forges des Eaux was absolutely beautiful (and flat). We passed cool lakes, working watermills, verdant forests and imposing Chateaux. As this originally was a railway, the station houses on route had been turned into cafés and we heard words of encouragement from a few locals enjoying an after work Cognac. Of course, being the countryside, when we arrive at our first night's hotel we realised all the restaurants were closed. After burning up thousands of calories over the past 2 days we were literally starving, so it was a coin flip between pizza or kebab. Pizza won the day as Perry said he didn't like 'foreign food', hmm.
We also met the lycra clad athletes who had whizzed past us earlier. They were on their way to intercept the Tour de France at Alpe d'Huez. After seeing how many beers they had drunk I could see they might have a little trouble completing the 100 miles a day they had set themselves. Obviously by now our bodies were finely tuned machines, so we only had the two large 1664's with our 15 inch Pizzas.
Friday 12th July
The next day and we were facing an 80 mile journey to the outskirts of Paris. Once again we couldn't find anything open so after a breakfast of electrolytes and Tracker bars we set off. After finding an industrial size sponge to ease Perry's razor blade saddle we found the route passed once again through the beautiful Normandy countryside with minimal traffic. Although having not seen a car for 40 minutes, inevitably when we did, another car was rammed up his behind desperate to get past. What we did notice were the hills, lots of them. The gentle, rolling plains reached high plateaux and with the sun at it's full strength and the pannier weight sapping our energy, we were pleased to see our lunch destination in the distance.
C'est fermé.
This familiar phrase was beginning to fray our tempers. We were starving but of course by the time we arrived at Marines, everything was shut. We debated the merits of a 3 hour lunch and the financial struggles of the EU over a couple of Cokes in a bar – desperate to ingest some calories. Even the bar owner had run out of baguettes and told us that we would have to wait until 3.30pm until the Boulangerie opened. Also Perry's tyres were beginning to puncture at an alarming rate, and tempers were beginning to fray as we once again took off his wheel and checked for thorns etc.
After we had stuffed ourselves with cakes and pastries we set off once again. We still had about 30 miles before our next stop and the sun was getting hotter. It was around this time that the lack of food and water really started to take it's toll. Andy and I had also managed to intercept a swarm of bees mid flight. Andy sustained the worst of it with stings to his neck and ear. Jeff helpfully removed the sting from Andy's ear and then stung himself in the process.
The map reading was becoming rather erratic, and the hills were becoming more frequent but after a 2km descent into Triel we caught our first glimpse of the Seine.
Only a few miles to go, I thought but as we pedalled on we were unaware that we had missed our bridge and were 5 miles in the wrong direction. Jeff, who had hours earlier been awarded the most consistent map reader was unceremoniously stripped of his honours and to top it all, Perry got another puncture.
2 hours later we wheeled into our hotel. Too tired to pedal up the last big hill, we walked the bikes in silence. We were sun burned, thirsty and above all hungry.
I ordered a beer and sat in silence which was broken when Jeff rolled up astride his bike effing and blinding about Perrys punctures.
A couple of beers, 2 bottles of Bordeaux and an enormous steak later the mood lifted. We were in the Paris suburbs and after a good sleep we would make the final push to the Eiffel tower.
Saturday 13th July.
And so to Paris. Another hot day but nothing was going to stop our rendezvous with La Tour Eiffel, apart of course, from Perry's bloody punctures. The route was mainly forest and after a few map reading misdemeanors we found ourselves in the forests of Versailles – a wonderful bike-riding experience, where every turn was met with scenes from old master paintings. The peace was shattered with Jeff's choice of prime French swearing again due to Perry's tyres. A passing French peloton slowed down to help, but after hearing Jeff's tirade decided to swiftly move on.
As we cycled through the cool forest we caught glimpses of the city below us. A few more miles and we found ourselves in the Bois de Boulogne. It was the eve of Bastille Day so we found a few blockades, but after a few twists and turns we went around a corner and our destination was right in front of us.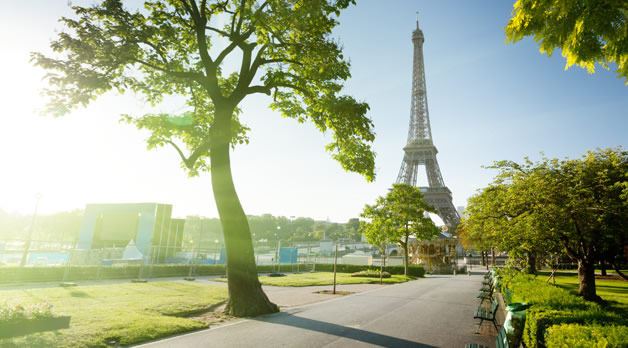 We were met underneath the Eiffel Tower by Jeff's wife Brenda who had brought us a few daft medals and we drank a glass of Champagne feeling like Bradley Wiggins. Or maybe Bradley Wiggins' older, unfit brothers. Jeff, who had threatened to throw his bike (and Perry's) into the Seine suddenly came over all emotional and vowed he wasn't leaving his trusty steed to rust in a far flung corner of France, he was going to tie it to some railings hoping the paranoid Bastille Day Gendarmes would blow it up!
After photographs, we parted company and cycled through the busy streets of Paris to our hotel where we could shower, change and then hit the town, albeit walking slightly gingerly, to celebrate a truly memorable journey.
And before anyone asks, I got the Eurostar back.